June is Pride Month! Pride month celebrates those who are a part of the LGBTQ+ community and is a celebration of acceptance and love. Here are some great ways to celebrate this June and how to teach your child about inclusivity.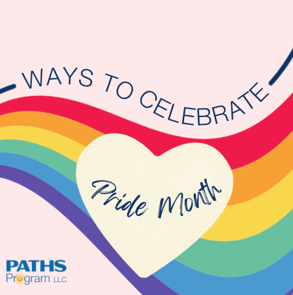 Ways to Celebrate Pride Month
1. Purchase or check out library books about Pride
There are several great books that you can read with your child to help them understand what Pride is and why it is important to include everyone no matter their background or identity.
Love Makes a Family by Sophie Beer
This is a story that highlights diversity amongst family members and how a family can be made up in many ways such as with two mothers, two fathers, or grandparents who take on the maternal roles.
Here is a great list of book recommendations as well for middle schoolers who want to learn more about pride and diversity.
2. Pride Crafts
A great way to open a discussion about Pride for your children is through the art of crafts! Here are some great craft ideas that can start important conversations about Pride.
3. Inclusive Movies
It can be heartwarming to see movies where the characters are diverse and have different identities and backgrounds. There is a character for everyone to relate to! Here are some great recommendations for inclusive movies for Pride:
4. Attend a Celebration
Look up where there will be Pride events within your community and if possible, attend one with your child! This is a great way to discuss topics of diversity, inclusion, and allyship. Here is a list of many different Pride-themed events happening around the world this June!
Topics such as identity (Grade 6, Unit 4), stereotypes (Grade 7, unit 4), and community support (Grade 8, unit 6) are discussed in the Emozi® lessons for Middle School students which can be used to discuss Pride this June!
Learn more about Emozi® Middle School or request a preview today!
If you enjoyed this content please share or give us a like on our Facebook!