The dreaded Monday, ugh. We totally get it. Mondays signify the start of a new week, and with that comes more things to get done from your to-do lists, expectations to meet, and more work!
By applying some mindfulness and a few tips and tricks, we can help to balance our body-budget to give us a leg up on the Monday Blues.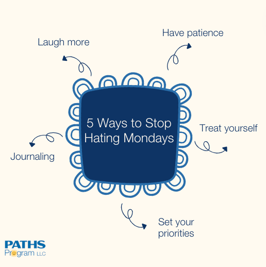 1. Have patience
Have patience with yourself and others, this is the start of the week and everyone is rushing to get caught up. Try a few deep breaths before going into a stressful task and remind yourself that no one is perfect and humans make mistakes. Use these stressors as a chance to practice your patience and zen.
2. Laugh
Laughing can be a great way to burn off excess stress and tension. Try a laughing exercise.
3. Treat yourself
Give yourself something to look forward to at the start of the week, you deserve it! Perhaps this is an extra 15 minutes to sleep in or a coffee from your favorite coffee shop on your way to work!
4. Journaling
Of course, you guessed it, journaling! Journaling is a great way to get all of your emotions out and onto some paper, this can help you to let go and think more clearly.
5. Set your priorities
On Sunday, plan our what you need to do to succeed for Monday. Make a list of what you need to do and set yourself up for a great day! That could include making your lunch the night before, setting your clothes out for the morning, or making sure your car has enough gas to take you to work. Whatever it is, plan ahead to give yourself a leg up.
If you like this content, please share it with a fellow educator and give us a like on our Facebook for more SEL-related content.
Social Emotional Learning for Every Age.
We now offer SEL for High School!
Learn more about it.