How to make the last weeks of summer worth it, you ask? We know you are still recovering from the seemingly never-ending covid-style school days, but this year will be a taste of normal! Here is a list of our top 8 activities to promote relaxation and fun while the sun shines.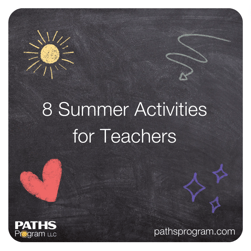 Read

Take yourself on a book store date. Start by hitting your favorite coffee shop and then meander your local book store's isles until you find a new great book or two!
Here is a great back-to-school book that we recommend 😉

The Social Emotional Classroom by Anna-Lisa Mackey and Melissa Ragan (available on

Amazon

)

Take up a new hobby

A great way to de-stress and unwind is by finding a new outlet to let your creative juices flow.
Hobbies to try: crochet, cooking, baking, painting, video games, singing, gardening

Move your body daily

Start your movement practice to help fast-track your routine for the school year. We recommend moving your body in some way for 30 min a day at least!
Our favorite ways to move are yoga, walking, swimming, and pilates.

Socialize

It is summer! Take advantage of the free time to see your friends and family before the school craziness takes hold of you
Invite your friends and family over for a BBQ, beach day, bike ride, etc. Spend time doing you!

Get involved in your community

Join a local community Facebook group to see what events are in your area! This can be a great way to get more involved and appreciate where you live.

Start a blog

What better way to express your creativity and knowledge than with a blog? This could include diary entries, recipes, teacher hacks, or whatever you choose.

Explore your city

Plan a day to see the sights! Check out your town's local museums, libraries, shops, and restaurants. Who knows? You may even find a new favorite spot.

Plan a trip

A great way to add more relaxation to your life is to plan for it. This could include planning an inexpensive day trip, a stay-cation for a long weekend during the school year, or a destination trip for spring break!
If you like this content, please share it with a fellow educator and give us a like on our Facebook for more SEL-related content.
SEL is for Every Age! We now offer Emozi® High School.
Learn more about it.