Social Emotional Learning offers teachers the flexibility to teach to the moment. The pandemic, remote learning, current events, and other topics in the news may bring up emotions that SEL can help process. Racism, stereotypes, and prejudice are frequently in the news and may come up in classroom conversations. These topics are broadly covered under the "social awareness" competency by CASEL. This domain also includes topics such as perspective-taking, empathy, appreciating diversity, and having respect for others.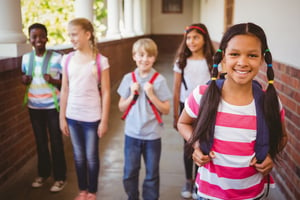 PATHS Program LLC offers a number of resources that teachers can use to address issues of racism, stereotypes, and prejudice. There are explicit emotions lessons, which teachers can use to help students work through their feelings associated with current events attached to these complex issues, as well as explicit lessons in each of the topics as indicated below.
Teachers are encouraged to use the flexibility built into both the PATHS® and Emozi™ programs to use current events as teachable moments. The PATHS® program Introduction to the Curriculum addresses this on page 17:
"For example, if an event occurs in your classroom, school or community that elicits a strong emotional response in your students, but that feeling is not formally introduced until later in the curriculum, consider teaching the relevant lesson earlier. The 'teachable moment' will go a long way to facilitate children's understanding."
The biographies and novel studies (in grades 4 and 5 of PATHS®) and Socratic Seminars (for grades 6-8 of Emozi™), explore many themes related to current topics.
As always, educators know their students best and will know how to address these issues in the classroom in a way that is developmentally appropriate and meaningful. Our hope is to give them the tools to do so.
Age appropriate lessons can be found in the following grades.
Grades PK/K
Emotions Lessons: Sad (L7), Mad or Angry (L10), Scared or Afraid (L11), Frustrated (L32), Worried (L35), Disappointed (L36), Furious (L38)
Grade 1
Emotions Lessons: Scared or Afraid (L17), Safe (L17), Mad or Angry (L19), Worried (L20), Frustrated (L35), Disappointed (L36), Hate (L45)
Grade 2
Emotions Lessons: Scared or Afraid (L13), Safe (L13), Mad or Angry (L14), Frustrated (L24), Disappointed (L39), Fair/Not Fair (L41), Malicious (L45)
Lesson 28: Tolerance
Lesson 29: Different Points of View and Kanesh Johnson biography
Lesson 46: Rejected, Included
Jump Start Lessons
For students in Grades 3-5, the following Jump Start Lessons help students discuss and manage feelings:
Lesson 3: Sad
Lesson 5: Scared or Afraid
Lesson 6: Mad or Angry
Lesson 7: Worried
Lesson 9: Disgusted
Lesson 11: Disappointed
Grade 3
Lesson 26: We are all Unique
Lesson 27: Respecting Others
Grade 4
Lesson 22: Biography of Harriet Tubman
Lesson 33: Biography of MLK
Lesson 35: Stereotypes and Discrimination
Novel Study: Drita, My Homegirl
Grade 5
Lesson 26: Conflict
Lesson 32: Anxiety
Novel Study: Maniac Magee

Grade 6
Unit 1, Lesson 11: Values
Unit 2, Lesson 6: Diversity
Unit 2, Lesson 7: Perspective-Taking
Unit 3, Lesson 8: Cultural Competence
Socratic Seminar: A Long Walk to Water
Grade 7
Unit 1, Lesson 7: Morals
Unit 2, Lesson 1: Showing Respect
Unit 2, Lesson 4: Stereotypes
Unit 2, Lesson 10: Perspective
Unit 2, Lesson 11: Cultural Competence
Socratic Seminar: Inside Out and Back Again
Grade 8
Unit 1, Lesson 5: Cultural Competence
Unit 1, Lesson 7: Belonging and Rejection
Unit 1, Lesson 10: Ethics and Integrity
Unit 2, Lesson 1: Human Variation
Unit 2, Lesson 7: Perspective Taking
Unit 3, Lesson 4: Prejudice and Racism
Unit 3, Lesson 7: Point of View
Socratic Seminar: The Crossover
Additional Resources for Teaching about Racism, Stereotypes, and Prejudice