What are SEL competencies and why do we need to assess them? CASEL—the Collaborative for Academic, Social, and Emotional Learning—defines SEL competencies as the "essential knowledge, skills, attitudes, and mindsets that individuals need to succeed in life. "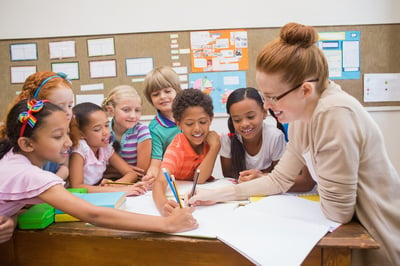 As true with math, reading, and science, measuring SEL competencies is key to understanding a student's social and emotional development over time. It's often said that "if you can't measure it, it never happened," or more specifically to education, "if you can assess it, you can address it."
There are several methods for conducting assessments—self-reported, observational, scoring simulated scenarios, etc. The PATHS® program aligns with CASEL's recommendation to utilize assessments that are scientifically sound, feasible to use, and actionable.
Adapting Assessments to Development Stages
Students' SEL competencies change over time, and so too should the assessments. The following is adapted from the CASEL report on Choosing and Using SEL Competencies Assessments in Schools.
elementary grade students experience
Growing ability to self-reflect and self-regulate.
The ability to plan and manage their emotions.
Beginnings of metacognition and the ability to reflect on one's own thought processes.
Increased sense of empathy and perspective-taking abilities—the foundation for interpersonal skills and positive social relationships.
Assessing elementary school SEL Competencies
Students are not yet able to self-report at this stage so teachers may conduct assessments via observing behavior.
In later grades—4th and 5th—students become more adept at self-reporting.
The PATHS® program classroom implementation packages include tools for conducting assessments by observation.
middle school students experience
Growing ability to self-regulate, improved interpersonal knowledge and skills, and increased metacognition.
The development of stronger peer relationships leads to a stronger sense of group identity.
Understanding of growth versus fixed mindset.
Assessing MIDDLE School SEL Competencies
Students can self-report as their capacity for self-reflection has typically developed at this stage.
Interviews can be utilized because students' thought processes and conversation skills are more complex and sophisticated.
Observation- and rubrics-based assessments that enable students to demonstrate their ability to use SEL competencies in a real setting.
The Emozi® program classroom implementation packages include the DESSA SEL Assessment.
Using what you learn
Assessments are conducted for every student and you have a packet of data or a spreadsheet of information. Now what? Schedule time to talk with teachers about what it means, what you can do with it, and how to move forward.
Did you see some big improvements? Celebrate those! Are there areas for improvement? Reach out to our team to see how we can help. Do teachers need more options for professional development? The PATHS® program offers online and self-paced training for each of our curricula.
The PATHS® and Emozi® programs' classroom implementation packages include both training and assessment tools aimed at making it easier for educators to measure and track student development over time. Learn more about this on our website, or visit our store to start building your SEL program.
Ready to get started?
Contact us for a custom quote for your school or district or shop online now.
Still reading? Check out more below:
The case for middle school emotional learning curriculum
Additional resources