The Socratic Seminar is an integral part of the exciting Emozi® Middle School program—a culturally-relevant social emotional learning curriculum for young adults.
Take a peek at the curriculum by visiting the program overview page.
Emozi® Middle School integrates ELA material into SEL themes by including the award-winning novel choices like Walk Two Moons by Sharon Creech, The Crossover by Kwame Alexander, and Esperanza Rising by Pam Munoz Ryan (to name a few).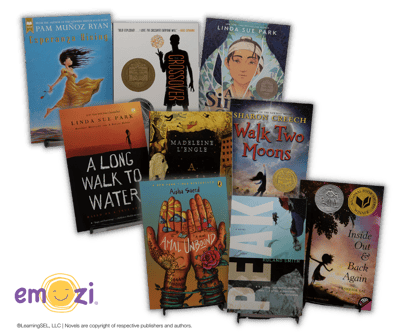 Despite being popular YA literature, not all students will be excited to dive into the stories. Some students struggle with reading (for that, we've put together some great classroom book bundles from Saddleback Educational Publishing for high interest/low readers), some struggle with attention, some don't see the value of reading, and others simply aren't interested.
So, what can we do to improve student engagement and get them involved in the story so that they can interact with the SEL concepts? One way is to break out of the box in thinking about how to deliver the story.
Does it have to be read out loud by the students? NO! Here are some ideas, in order from beginner to advanced, that can help get students involved in the story and over the "I don't want to read" hurdle.
Beginner
The teacher can read the chapters to the students.
Share audio versions of the novels from either the library or Audible.
Grade 6
Grade 7
Grade 8
Intermediate
Show the movie version in small segments and discuss.
Show a trailer for the book or movie to generate interest.
Show an interview with the author talking about their book.
Grade 6
Grade 7
Grade 8
Advanced
Have students create their own "movie trailers" for the chapters by acting out the content.
Challenge them to create a podcast or multimedia explainer.
Encourage them to draw comics, storyboards, or other interpretive artwork.
Dive into the graphic novel and graphic organizer options!
Grade 6
Grade 7
Grade 8
Providing access to the novels through a variety of media options allows for students to engage with the content, explore the SEL questions and share their insights with their fellow students. It provides options for reluctant readers, who might not otherwise participate.
Learn more about Emozi® Middle School by requesting a preview or visit our website.