The world can be a scary place for children—and sometimes, it is difficult for adults. From the pandemic to natural disasters, poverty, and food insecurity, students are bringing a lot of big emotions to school with them. Layered on top of these ongoing current events is the news of conflicts around the world.
As of March 2022, there are several ongoing conflicts worldwide, including in Ukraine.
Merriam-Webster Dictionary defines "conflict" as a fight, battle, or war, or the competitive or opposing action of incompatibles: antagonistic state or action (as of divergent ideas, interests, or persons).
The Center for Preventive Action (CPA)'s Global Conflict Tracker highlights conflicts in Mexico, Venezuela, Nigeria, China, North Korea, Iran, and many more. The CPA estimates that globally there are 70.8 million people displaced by conflict. These global conflicts may have an emotional impact on students with families in these regions or who have family in the military.
If your students feel strong emotions due to issues at home, from the pandemic, or have family/friends in areas in conflict zones, they may need a little extra time to process their feelings.
Below are PATHS® lessons and resources to help students work through these challenging emotions.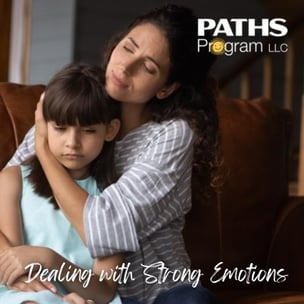 First, assure students that all feelings are OK and provide opportunities to openly and honestly discuss their feelings. Help them manage their emotions appropriately and guide them to make good decisions in response to how they feel using emotions lessons in the PATHS® curriculum.
If questions come up, Today.com has a guide for talking to students depending on their age.
Review Emotions Lessons
You may want to review the following PATHS® lessons and resources with your students:

Preschool/Kindergarten:

Lessons 11 (Scared or Afraid), 35 (Worried)


Grade 1:

Lessons 17 (Scared or Afraid, Safe), 20 (Calm/Relaxed, Worried)


Grade 2:

Lessons 13 (Scared or Afraid, Safe), 16 (Calm/Relaxed, Worried)


Grade 3:

Lesson 12 (Calm/Relaxed, Tense)


Grade 4:

Lesson 9 (Calm/Relaxed, Tense)

Grade 5

:

Lessons 4 (Ways to Calm Down), 5 (Calm/Relaxed, Tense), and 6 (Ways to Cope With Stress).
These resources focus on the range of feelings students may be feeling due to current events, situations at home, or conflicts with classmates.
Preschool/Kindergarten, Grades 1-2
For younger children,
s
hare the read-aloud
Tamara Feels Worried
. Make sure they understand that everyone feels worried sometimes and that it is OK. Show children the
photographs of
worried people
and ask them to notice what it looks like to feel worried. Finally, give children a copy of the
worried Feeling Face
and have them personalize it. Ask children to brainstorm things they can do when they feel worried, such as drawing pictures, playing a game, sticking to a schedule, or caring for pets.
For Older Students
For students in Grades 3-5, use the following Jump-Start Lessons to help students discuss and manage feelings:
Lesson 3: Sad
Lesson 5: Scared or Afraid
Lesson 6: Mad or Angry
Lesson 7: Worried
Lesson 9: Disgusted
Lesson 11: Disappointed
PATHS® grade 5, lesson 6 reminds us that it's normal to feel stress during difficult times. As an activity, have students
complete the

20 Ways to Calm Down

and

Who Can I Talk To?

Activity Sheets.
Booklists and extension activities are available in the online Support Materials for all grades. Access them online using your custom credentials or the login and password from your Teacher's Guide. There are also family communications resources available in Spanish.
For Educators
Remember to take care of your emotions as well. The saying "you can't pour from an empty cup" comes to mind. Here are some activities to help you practice self-care and self-love.