This time of year students in middle and high school start thinking about their first jobs. Having good interview skills is a great way to make a good impression on those with whom students will be working. It helps to set the tone for an employer's expectations about who they are as a potential employee and as a person.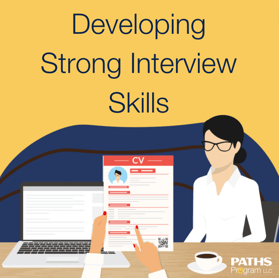 Teaching teens how to prepare for their first jobs primarily aligns with the CASEL competencies of self-awareness and relationship skills. This is one reason Emozi® Middle School and the upcoming Emozi® High School include strategies for developing these two competencies.
Having strong interview skills can help teens stand out against other applicants and may even help them land a job!
What are some ways I can improve my interview skills?
Roleplay: have a friend or family member hold a mock interview for you, this will allow you to feel more comfortable talking about yourself in a formal setting
Be punctual: it is always important to be on time (or even early) to an interview, this shows that you are motivated and are excited to find out more about the job
Being prepared: Make sure to have copies of your CV on hand for your interviewers
Listening skills: While it is important to be confident and talk during an interview, it is also important to listen! Your interviewer will tell you important details about the job posting. Listening skills are also a good sign of professionalism.
How do others work on their interview skills?
Listen to Ashley Rizzotto in her TEDx Talk: Mastering the Art of the Interview
Within this TEDx Talk, Ashley Rizzotto discusses how to be prepared for an interview, and how to make sure you are finding the perfect job for you. Rizzotto points out that it is important to make sure that during your interview you are also advocating for what you will need and expect from a job position. Being a "yes man" may get you the job during the interview, but, as Rizzotto points out, this can leave you with a job that does not fit your needs and leaves you no place to grow. This is why it is so important to ask your own questions during an interview as well.
Types of questions to ask during an interview
What is the workload?
What is the office atmosphere like?
If I am struggling to complete a task, who on my team can I reach out to?
What are the expected work hours?
Can you tell me more about the day-to-day responsibilities of the role?
Are there opportunities for growth within this department?
What are some ways I could impress you within these next few months if I am offered this job?
What is expected of team members who hold this position?
See this list of questions that may come up in an interview. Interviewing is a skill set that many adults struggle with so teens should feel
Learn more about our upcoming high school program or preview an Emozi® Middle School lesson.
If you enjoyed this content please share it with others or give us a like/follow on Facebook!
Still reading? Check out more below: