As the saying goes: you have to nourish to flourish! In this blog post, you will learn what self-care is, how important it is, and how to create your own self-care box. I included examples of fun self-care box themes that may interest you as well!
Note: Self-care boxes are a great way to help us unwind and re-center as we prepare to return to in-person school and work. Best of all, self-care boxes can be tailored to all ages!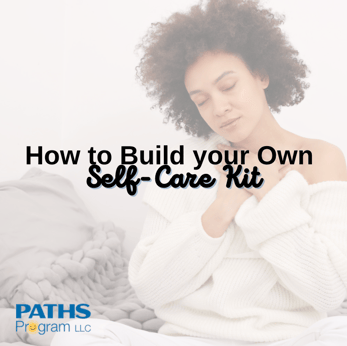 What is Self-Care?
Self-care is taking some time for yourself to be by yourself or be with friends and family. We all lead busy lives, and sometimes we won't stop to slow down if we aren't mindful of taking a moment. This is where self-care comes in! Whether it is taking 10 minutes to do some yoga during a busy week, spending an evening journaling, or just chilling out watching a good movie, self-care is vital to positive mental health. It helps us be more clear-headed, less anxious, less depressed, and overall, more joyful.
Why is Self-Care Important?
Self-care aids in helping maintain your Body Budget—which is the amount of energy that your brain allocates to keeping you alive. This is done by listening and tending to one's needs to ensure that less stress and chaos affect the body. The three most important aspects of maintaining your body budget are good sleep, nutrition, and exercise. Self-care teaches self-compassion as well, which can help with coping in times of distress. Self-compassion is being one's own best friend and treating yourself with kindness. When we are kind to ourselves, we are nurturing ourselves.
What is a Self-Care Kit?
A self-care kit is exactly what it sounds like! It is a kit (or rather a toolbox) of things that make you feel good about yourself. This can range from items that help soothe and help us work through our strong emotions.
Steps for Assembling your Self-Care Kit:
Get a box or some container to put your items in.
Consult the lists below of self-care items and self-care box themes to get a sense of what you will want in your box.
Start assembling your self-care box with the items you have chosen.

Creating a theme can help you have lots of activities that surround the mood you wish to create.

Place your self-care box in an easily accessible and comfortable space (bedroom, living room, etc.).
Practice some self-care! Use your box whenever you feel stressed out, upset, or need to re-center.
Items we Recommend in your Kit
Notebook and Pen
Earbuds
Pillow or stuffed animal
Essential Oils
Candles
Weighted blanket
Nail polish
Bubbles
Lip balm
Positive notes (write yourself notes of gratitude)
Face masks
Silly putty
Comfort movies
Favorite snacks
Tea or hot cocoa
Coloring book
Slinky
Gum
Candy
Favorite Cookies
Tissues
Fuzzy socks
Scented lotion (or unscented!)
Stress ball
Phone charger (for some, reaching out to friends and family can be very therapeutic)
Examples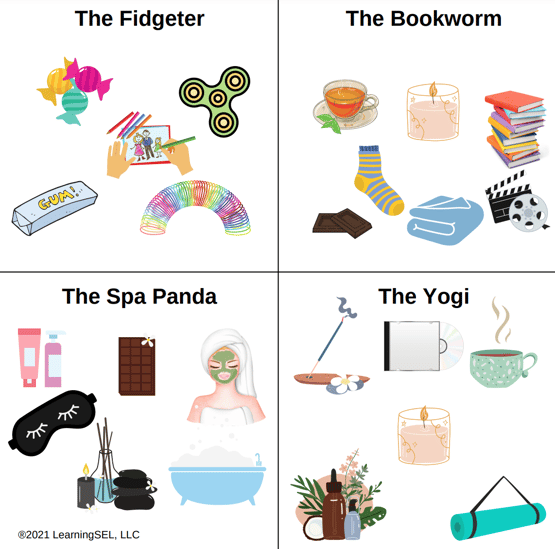 The Fidgeter

Stress ball
Fidget toys (ex. Acupressure ring, fidget cube, etc.)
Slinky
Candy
Gum
Coloring book
The Bookworm

Notebook
Favorite book
Candle
Tea or hot cocoa mix
Fuzzy socks
Favorite snack
Feel-good movie
The Spa Panda

Lotion
Facemask
Eye mask
Lip balm
Soothing bubble bath (in a relaxing scent like lavender)
Favorite CD (something soothing like jazz or classical music)



The Yogi

Yoga mat
Favorite meditation music
Tea
Favorite mug
Essential oils and incense
Everyone's self-care personality is a little different so feel free to mix and match or create your own themed box. This is your self-care kit!
To learn more about the Body Budget—and how we teach it in our Emozi® curriculum—request a free preview of the program materials.