French PATHS® Now Available for Pre-Order. Ships in the Fall.
AVONDALE, AZ — The award-winning, evidence-based PATHS® social emotional learning (SEL) program is now available in French. Translated by native French speakers to ensure language fidelity, it is designed for dual language classrooms, immersion schools, or French-only instruction. The French version of the PATHS® program is the same high-quality SEL curriculum used by elementary schools around the world.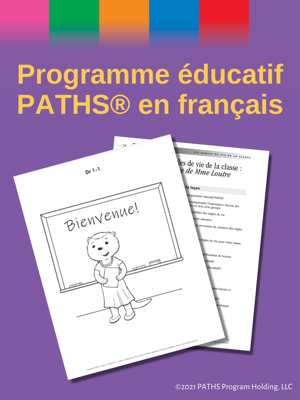 "As an educator, I've seen first hand the impact that equitable access the PATHS® program can have on students' social and emotional development," said Anna-Lisa Mackey, CEO of PATHS Program LLC. "As a Canadian I'm thrilled to be able to provide the same researched-based curriculum to French-speaking classrooms."
SEL can help schools mitigate students' learning and social developmental loss incurred during COVID-related shutdowns and remote learning. As a CASEL SELect and Blueprints Model social emotional learning program, the PATHS® program has proven behavioral and academic outcomes such as increased prosocial behavior, improved academic achievement and test scores, and reduced teacher burnout and turnover.
PATHS® program classroom implementation packages include everything teachers need to implement and integrate the lessons into their classrooms, including online training and an 18-month subscription to PATHS+ Premium, a member portal with exclusive content for educators. The French preschool/kindergarten and grades 1-2 are now available for pre-order with shipping dates in the fall, and grades 3-5 are planned for 2022.
The PATHS® program is published by PATHS Program LLC, author and publisher of the Emozi® SEL program for middle school. As an evidence-informed program, Emozi® is designed for the unique development needs of today's young teens and includes family communications in English, French, and Spanish.
Learn more about the French PATHS® program at pathsprogram.com/preview or visit shop.pathsprogram.com to shop for multi-language learning resources.
###
About PATHS Program LLC
PATHS Program LLC provides comprehensive research-based, culturally relevant, engaging social emotional learning curriculum and training worldwide.
PATHS Program LLC works with educators in schools, districts, and social service organizations around the world to bring social emotional learning to students of all backgrounds. PATHS Program LLC is the publisher and sole source provider of the CASEL SELect and Blueprints Certified Model Program PATHS® social emotional learning program for preschool through grade 5. In 2020, PATHS Program LLC launched Emozi®, an SEL program specially designed for the unique needs of middle school students (grades 6, 7, and 8).
Led by Chief Executive Officer Anna-Lisa Mackey, M.Ed., an SEL expert with more than 20 years of experience in SEL training and professional development, and student behavior, academic performance, and personal skills. She has worked with Head Start Cares and Canadian Mental Health Association on two large-scale projects, and trained school staff and mental health professionals in Alberta and Nova Scotia, Canada, as well as California, Massachusetts, North Carolina, Ohio, and Virginia in the United States. Ms. Mackey has also presented on social and emotional learning at numerous conferences.
Anna-Lisa Mackey is available for interviews on social emotional learning, school culture, mental health and wellness in education, and educator professional development.
Learn more about PATHS Program LLC at pathsprogram.com.