Social Emotional Learning (SEL) is a way to provide people (usually youth) with skills to help with self-management, self-awareness, social awareness, relationship skills, and responsible decision-making. SEL is traditionally viewed as an asset that kids need, but when considering the skills required for workforce readiness and the training opportunities that businesses offer, many are rooted in SEL practices. Therefore, SEL is for every age! Especially those entering and in the workforce.
What is Workforce Readiness?
Workforce readiness is essentially the skills that make a candidate a successful employee. They are skills that a company will look for in their hiring process and are also a measure of specific skills that help someone succeed at a job.
How does SEL impact workforce readiness?
All five competencies of SEL help prepare youth in many ways, including workforce readiness. Each competency is a skill set that can be invaluable to employers. SEL can help with drive, motivation, working effectively in a team, good collaboration, respect, honesty, and many others-all which are attributes that a model employee should exhibit.
Additionally, the sooner youth can receive and hone their SEL skills, the sooner they are more reliable, self-aware, and emotionally intelligent, all of which are strong skills to have as an employee. If youth could receive SEL interventions sooner, businesses that invest a fair amount of money in training these skills would also benefit. Young employees who had previously received SEL training would have a head start and could focus less on fundamental skills but on more advanced skills as an employee.
Here are 4 ways that Social Emotional Learning helps to reinforce 21st-century skills.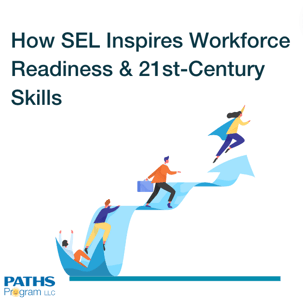 1. Communication Skills
"What good are technical skills if we lack influence, emotional intelligence, effective communication, and the ability to navigate conflict?"- Ben Brooks, co-founder, Pilot
Good communication skills are crucial for life and the workforce. SEL helps build confidence and strengthen people's advocacy skills, which makes for better communicators. A survey of Business Roundtable members reported that 98% of CEOs found it difficult to find candidates with the competencies and training to fill open positions and affected all skill levels. Good communication is a crucial skill that can enhance one's comprehension and follow through on tasks which is essential for climbing the corporate ladder.
2. Problem-solving skills
SEL helps people strengthen their problem-solving skills, usually in a classroom setting. Through experience working with others and learning how to become better team members, students are equipped with valuable skills that can be applied to real-life situations in the workplace. Increasing one's problem-solving skills allows one to navigate uncertain situations, work better with others, perform tasks more effectively, and adapt projects when met with challenges. Problem-solving skills also involve goal setting and accomplishment, which are important in the workforce. When one has strong problem-solving skills, they can find solutions and finish tasks more efficiently.
3. Building resilience
When implemented at the high school level, the SEL skills one learns during this time greatly impact one's view of their future readiness. Resilience offers confidence and support when one's plans do not turn out as expected and increase the likelihood of bouncing back. A young person confident in their abilities and future readiness will display more resilience. Resilience helps to prevent burnout which many employees feel across the board. Resilience helps to inspire confidence in one's work, which can help prevent feelings of doubt and lead to a lack of motivation.
4. The ability to learn
SEL is a crucial part of strengthening one's ability to learn. The easier a person can learn, adapt, and comprehend information, the more beneficial they can be for a company and their own professional development. This helps with sticktoitiveness and learning new skills that may pertain to a job.
To voice your support for the benefits of SEL, please visit the SEL Providers website.
Learn more about SEL for middle and high school on our website.