10 Questions with the CEO of PATHS® Program LLC
Who is Anna-Lisa Mackey? We ask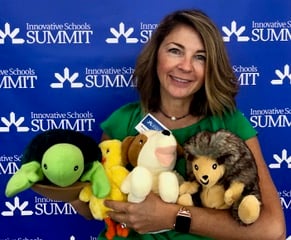 ed Anna-Lisa these 10 questions to learn more about her and what she has planned for the PATHS® program!
Can you tell us a little about yourself?
I've been an educator for over 25 years in a variety of school settings. My background is in First Nations Education, and also working with children who are at risk of developing serious behavior problems. It was through this work that I first became involved with the PATHS® program. At this point, I'd been training school staff and mental health professionals across Canada, the United States, and several countries worldwide for close to 20 years. I've presented at conferences and been involved in several of the research projects for which the PATHS® program is so well-known. I'm very excited to be taking this step, as it seems to bring me full circle. I have a degree in English, and at that time, I had hoped to go into publishing. This new venture combines the aspirations of the past and the work that I love presently.
What made you interested in social and emotional learning (SEL)?
Through my work with children, I could see how a lack of skill in this area really impacted children in such a negative way, leading to serious challenges in the classroom. My experience working with at-risk children exposed me to the PATHS® program. I got a chance to see, first hand, how much of a difference it made in their lives, both in school and at home. I also saw how much of a difference it made in the classroom - teachers could teach, and children could learn.
What do you like most about working with schools as they implement SEL?
I really love seeing how the teachers might be a bit skeptical at first and then, as they see the changes that are occurring, how enthusiastic they become. That, for me, is exciting! When the PATHS® program is implemented well, it works! It makes a huge difference for both kids AND adults!
What is the most challenging part about implementing SEL in the classroom?
I think the challenge is that most teachers are not familiar with SEL. They don't really understand what SEL is. This is primarily due to the fact that very few teacher education programs across the country introduce SEL concepts. So teachers are left to figure it out for themselves. Therefore, it makes it hard for them to understand what a comprehensive SEL program is, and how to embed SEL in all classroom activities. I always say that they need SEL colored glasses - to see SEL in everything they're doing with their students and the PATHS® program helps them to not only understand what to do, but how to do it.
What do you like most about the PATHS® program?
That it works! There are so many programs out there that you pay good money for, and they don't necessarily deliver what they promise. The PATHS® program does! And, you know it does, because of the years of research and testing that has gone into its development and refinement.
Why did you decide to acquire the PATHS® program?
I have always wanted to be in publishing, as I mentioned, and I really love the work that I do with schools and teachers (who make such an impact on our communities). When the opportunity arose, it was just something that I couldn't pass up.
What upcoming changes can we expect to the PATHS® program?
I have some really big ideas for the program! I'd like to take it online and eliminate (or reduce as much as possible) the need for all the usage of paper - Save a Tree! I also plan to expand to the higher grades. As much as there is a need for SEL for young children, adolescence need the skills too! We can help with that! I want to extend this high quality program and bring it to middle school… and who knows? Maybe high school? I also want to see parents have the ability to get access to the program for their children. So often during my travels to provide training, I talk to parents who ask me what I do. The comment I most often heard from them was, "That's such important work! I wish my child could get the PATHS® program, but their school doesn't offer it." So, I'd like to provide that opportunity too.
What is your vision for the PATHS® program?
I'd have to say "The PATHS® program for EVERY child!"
What do you find most exciting about this new endeavor?
The opportunities that it affords - not only for me to grow and expand my role and experience, but the opportunity to work with amazing researchers, fantastic educators and a truly exceptional program to improve the lives of children.
What do you like to do in your free time?
What free time? Haha. No, right now I'm working on getting my yoga teacher certification. I love reading and hiking and I've just moved to Arizona this past summer, so I'm really enjoying getting to know the desert and soak in the beautiful weather!