Updated September 2021: We know from research that social emotional learning is best taught face-to-face (F2F) in the classroom. Over the past year and a half, F2F time has been put on hold or interrupted several times. Students and adults may be a little rusty when it comes to picking up social cues, interacting with others in person, and regulating emotions. It's a good time to revisit self-regulation strategies now that schools are going back in person.
Back to School Concerns
A survey by EdWeek indicates that, over the next 12 months, teachers and administrators are concerned about student engagement and motivation, safety and security, and mental health, as well as teacher effectiveness in the classroom. After more than a year of remote, hybrid, or asynchronous learning, in-person classroom management is once again a concern.
Decades of research shows that Social Emotional Learning (SEL) can improve students' social and emotional skills, attitudes, relationships, academic performance, and positive views of the classroom and school culture. It's led to a decline in students' anxiety and behavior problems and leads to long-term improvements in prosocial behavior and academic performance.
The Emozi® program for middle school offers lessons and resources that help develop a more positive classroom environment.
Middle School Problems and SEL Solutions
A few areas with which middle school students may struggle when back in the classroom are managing their emotions or utilizing appropriate conflict management skills when problems arise with other classmates.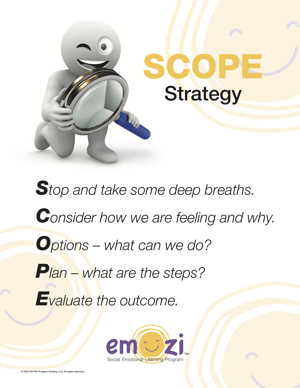 In a key part of Emozi®, students are taught self-regulation strategies by using the SCOPE Strategy. Teachers who have students that struggle to control themselves or lack problem-solving skills can use the SCOPE Strategy to help them adjust to in-person learning. The SCOPE Strategy is an acronym for the following:
Stop and take some deep breaths.
Consider how we are feeling and why.
Options – what can we do?
Plan – what are the steps?
Evaluate the outcome.
Using the SCOPE Strategy is just one of the self-regulation tools that can help with positive classroom management. Consistently implementing a high-quality SEL program such as Emozi can help improve student behavior, reduce anxiety, increase academic success, and contribute to overall improved classroom culture, among other benefits.
What are you most concerned about as your school goes back to in-person instruction?
Contact us to see how SEL can help.