My background in education is a teaching credential with an emphasis on First Nations Education in Canada. I was introduced to the subject through teaching courses at Simon Fraser University, on the Tk'emlúps te Secwépemc reserve in Kamloops, British Columbia. My first real teaching job was on a very remote native reserve in the middle of the province called Klusk'us. I taught the entire elementary program from grade 1 to grade 5 for three years. It was challenging, creative, and rewarding—and the best teaching experience I've ever had.
Thus I was excited to write this blog about social emotional learning and indigenous education. But, as is my way, I wanted to look at what research might be out there to inform this discussion.
Let's start with a definition of SEL from CASEL (Collaborative for Academic and Social and Emotional Learning): "SEL is the process through which all young people and adults acquire and apply the knowledge, skills, and attitudes to develop healthy identities, manage emotions and achieve personal and collective goals, feel and show empathy for others, establish and maintain supportive relationships, and make responsible and caring decisions." (CASEL.org)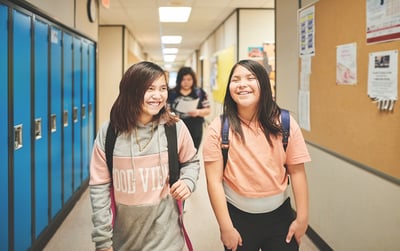 It is clear from this definition that SEL skills can benefit all people, and the research is clear. SEL benefits correlate to improved academic outcomes, social behaviors, and lower levels of distress, such as depression and anxiety.
There is also cultural evidence indicating that SEL "can support the positive development of students from diverse family backgrounds and geographic contexts."(Taylor et al., 2017) But what I think might be most relevant to this blog post is the evidence that "SEL interventions show the largest effect size when the intervention is designed with a specific context or culture in mind." (Wiglesworthet al., 2016)
That brings us to the question: has SEL been implemented in indigenous communities, and if so, how were the results?" I managed to find several studies across North America which were surprisingly similar in their implementation. They suggest that SEL implementation, combined with culture, might be the secret combination.
A study conducted to "capture and incorporate student voice from an indigenous (Native American) student population into a social emotional learning program to meet the cultural context of the students…" found "...significant positive impact(s) when SEL was introduced to ninth-grade students" (Mills, 2019). This study noted that "students' cultural experience is of paramount importance… since SEL teaches one the ability to manage their own emotions, it's critical that their individual cultural experience are brought to bear as a way of understanding who the individual is and more importantly what culturally experiences they are bringing to the discourse." (Mills, 2019)
Similar sentiments come from a report on Recommended Strategies to Support American Indian Students—a review of literature on the academic success and wellness of Native American students. It suggests that SEL and connecting students to culture, tradition, and Indigenous Knowledge go hand in hand in hand with indigenous students' academic success.
And a Canadian reference from a report by the British Columbia's School District 57 Aboriginal Education Department (June 2016) identified SEL and Indigenous Knowledge as 2 of the four key factors for indigenous student engagement.
Teaching SEL in combination with indigenous culture allows students to connect their learning of important social and emotional skills with who they are and their cultural context. Because SEL skills are developed "in a complex system of contexts, interactions and relationships," (Jones, S., & Kahn, J., 2017), blending culture and SEL skills creates a meaningful experience for indigenous youth, allowing for the significant benefits of improved mental health and academic achievement.
The PATHS® program and Emozi® Middle School are both implemented successfully in multiple Canadian First Nations and Native American schools. We'll have a podcast episode on one such school soon!
Visit our website for more information on our programs.
Still reading? Check out more here below:
Native American Heritage Month
additional Sources
Jones, S., & Kahn, J. (2017). The evidence base for how we learn. Supporting students' social, emotional, and academic development. Consensus Statements of Evidence from the Council of Distinguished Scientists. National Commission on Social, Emotional, and Academic Development. The.Aspen Institute.
Mills, Angelo, "STUDENT VOICE IN SOCIAL EMOTIONAL LEARNING" (2019). Ed.D. Dissertations in Practice. 42.
https://digitalcommons.tacoma.uw.edu/cgi/viewcontent.cgi?article=1043&context=edd_capstones
Taylor, Rebecca & Oberle, Eva & Durlak, Joseph & Weissberg, Roger. (2017). Promoting Positive Youth Development Through School-Based Social and Emotional Learning Interventions: A Meta-Analysis of Follow-Up Effects. Child Development. 88. 1156-1171. 10.1111/cdev.12864.
Wiglesworth, M., Lendrum, A., Oldfield, J., Scott, A., ten Bokkel, I., Tate, K., & Emery, C. (2016). The impact of trial stage, developer involvement and international transferability on universal social and emotional learning programme outcomes: A meta-analysis. Cambridge Journal of Education, 46, 347-376.