Utilize the Emozi® Middle School SEL lessons to help students be successful as they "Get Ready! Get Set! Go!" back to the classroom.
You'll be happy to know that there are several Emozi® Middle School lessons and resources to help start the school year off right.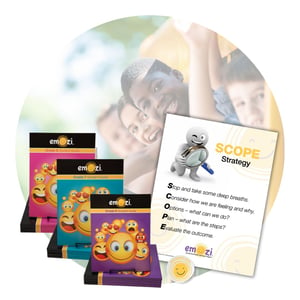 The best part is that most of these materials are included in purchasing your classroom implementation package (CIP) or available with complimentary access to the online support materials!
Get Ready!
First, complete a social emotional (SEL) evaluation for each student if you haven't done so already. This will give you a baseline for where your students are when they return to the classroom. You can do it again mid-year as an optional checkpoint, but don't forget to do it again at the end of the year to see how far your students have progressed in their SEL growth.
Use the DESSA-mini included in your CIP for students in grades 6-8. If you need to order additional copies, you can do so here for the baseline and here for the end-of-year evaluation.
Get Set!
To help re-establish class norms, you may wish to consider Grade 6, Unit 2, Lesson 10 is on Rules.
Review the SCOPE Strategy from Lesson 1 in all grades to help reacquaint students with self-control strategies and feeling identification.
Go!
Students may need the opportunity to get to know each other better and become reacquainted with working together. Check out these lessons:
Making and Maintaining Friendships in Grade 6, Unit 2, Lesson 9
Teamwork and Collaboration in Grade 6, Unit 1, Lesson 9, and Grade 7, Unit 1, Lesson 8
Grade 8, Unit 2 Lesson 5 is all about being a Team Player
We know that talking to students about how they're feeling is essential. Try Grade 7, Unit 3, Lesson 8 on Emotional Awareness for a guide to doing this.
Some students may need a refresher on prosocial skills, such as sharing, conflict resolution, problem-solving, and decision-making. You'll find these lessons helpful:
Conflict in Grade 7, Unit 1, Lesson 11, and Grade 8, Unit 2, Lesson 9
Problem-Solving in Grade 8, Unit 1, Lesson 4
Decision-Making in Grade 6, Unit 2, Lesson 10
If you need to order additional student workbooks for Emozi® Middle School, our refresh packages are 20% off right now in our store! And if you'd like refresher training, you can take the 3-hour self-paced Emozi training for just $100. Get more details here.

Finally, subscribe to our blog, Emozi Facebook Group, and Pinterest for other ideas and to share your ideas for easing the transition back to school!