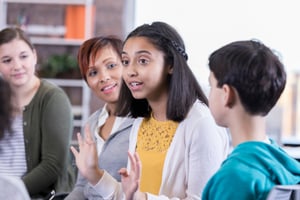 Early adolescence is a critical developmental period in a person's life. There are changes in social relationships, numerous physical and cognitive development changes, students also deal with academic competition, and increased social comparison among peers.
These issues can potentially lead to decreased self-esteem, school connectedness, anxiety, and loneliness. Students during this developmental period are more likely to be prone to emotional and behavioral problems, become disengaged from school, and experience a decrease in positive peer influences.
Studies show that nearly one-half of all lifetime cases of mental illnesses begin by mid-adolescence.
Because of these issues, middle school is an ideal time for interventions such as social-emotional learning taught through the lens of the five CASEL competencies.
These competencies include Self-Awareness, Self-Management, Social Awareness, Relationship Skills, and Responsible Decision Making.
Social emotional competencies can be both protective and promotive. By learning, practicing, and performing SEL strategies, students develop healthy coping and problem-solving skills that can be used throughout their lives.
Most teachers will tell you that unlike students in the lower grades, middle school students won't respond to emotions posters, puppets, or coloring activities—it's just not cool.
When we created Emozi®, we embedded engaging and relevant topics, teaching strategies, and student activities such as journaling, student-led discussions based on young adult literature, graphic organizers, an easy to recall self-regulation strategy, role-playing, and much more.
Research-informed social emotional learning
Emozi® draws from past and current research to provide a meaningful framework for educators. Visit this page to read more about the research, view the logic model, and download a whitepaper.
Meet Emozi® For Yourself
Request a preview or contact us to learn more about the complete Emozi® curriculum.