Everyone you meet is a potential friend, but not everyone you meet is a good friend. Knowing how to recognize good and bad friends is as important as knowing how to balance your body budget. In this post, we'll go over the characteristics of what makes a good friend and what questions you should be asking yourself to ensure you are also a good friend. Let's get started!
Get ready to be the best friend ever and learn to choose the best friends ever!
What are the characteristics of good friends?
Quality friends are there for you in good times and bad. Below are some great characteristics to look for when friend-making:
Good friends are honest with each other.
Good friends are there for each other in times of need.
Good friends are supportive of each other.
Good friends are caring and compassionate towards one another.
Good friends are patient with each other.
Good friends have fun together.
What are the Characteristics of Bad Friends?
While friends can make mistakes and sometimes hurt us, if a friend of yours constantly exhibits characteristics like the ones mentioned below, it may be time to reevaluate how much you want to spend with this friend.
They are never there when you need them.
They only talk about themselves/issues in their lives.
They do not care if they hurt your feelings.
They only hang out with you when it benefits them.
They lie to you.
They make fun of or make offhand comments to you.
They are mean to others.
They do not respect you or your values.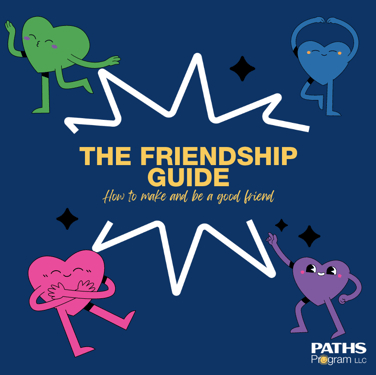 How to be a good friend
There are many ways to be a good friend. The golden rule states, "treat others the way you want to be treated." That is where you should start when entering a friendship with someone. Being a good friend or best friend is about supporting and being kind to the other person. A good friend may not be someone you see often, but it is like nothing has changed when you do see them. It is not just one person's responsibility to be a friend; it is a partnership!
Things to consider
Here are some questions to ask yourself when looking inward at your friendship-making skills.
What makes your friendships special?

What makes you a good friend?

What makes you a bad friend?

How do you treat your friends?

Do you have a best friend? How do they treat you, and vice versa?

How do you make new friends in general—do they come easily to you or not at all?
You are worth being friends with
You are a great person worth being friends with! You are a good listener and communicator and always there for your friends when they need you.
You're the first to call them up when something bad happens; you listen to their problems and offer help in any way you can. They know that if they have a problem, they can count on you to be there because they trust your judgment and will never doubt what advice or wisdom you'll give them. So don't stress about being someone else to make friends—just be you!